Believers Baptism
Baptism by Immersion in Water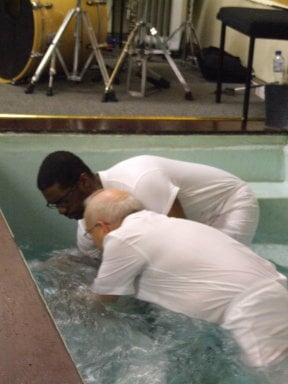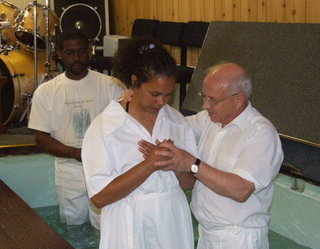 Please read the following notes carefully, making sure that you check the scripture references in your own Bible.
1. WHY BE BAPTISED?
(a) Because Christ Himself set the example.
(Matthew 3:13-17)
(b) Because Christ commanded His disciples to do this.
(Matthew 28:19)
(c) Because the New Testament church practised it.
(Acts 2:38,41; 8:12; 10:48; 16:33 19:5)
2. WHAT DOES BAPTISM MEAN?
(a) It is a public confession of a personal faith in the Lord Jesus Christ. (Acts 8:36.37)
(b) It is a symbol of the fact that our sins have been washed away in the blood of Christ. (Acts 22:16)
(c) It is a symbol of the fact that we have "died" to our old, sinful way of life. (Romans 6:3)
(d) It is a symbol of the fact that we have been "raised" with Christ to a new life of holiness. (Romans 6:4,5)
3. WHO MAY BE BAPTISED?
(a) Only those who sincerely believe that Jesus Christ is the Son of God. (Acts 8:36.37)
(b) Only those who have truly repented of their sin and turned in faith to Jesus Christ, receiving Him as their personal Saviour.
(Acts 2:38)
(c) Only those who are sincerely willing to become disciples of Christ - that is willing to obey His commandments and acknowledge that He is Lord of their lives. (Matthew 28:19,20)
4. WHAT FOLLOWS BAPTISM?
(a) We should definitely seek to be filled with the Holy Spirit.
(Luke 11:14; Acts 1:8; 2:38.39)
(b) We must seek to live a life consistent with the profession we have made in Baptism - that is. a life of personal obedience to God's Word.
(Romans 6:5-14)
(c) We must take our place in the local church as a member of the Body of Christ, sharing in its worship, fellowship and witness.
(Ephesians 4:1-6: Romans 12:4-8)